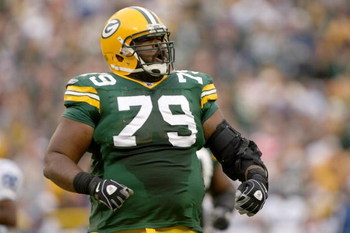 Well, it was ten years ago in April that Ryan Pickett was selected by the St Louis Rams in the 1st round of the NFL Draft with the 29th pick. In honor of this, I'm going to honor him with ten of my favorite things about Ryan Pickett
1. the "Ett" at the end of his last name. Sounds like pick it off like an interception, without it, this is a terrible last name.
2. His butt. For obvious reasons.
3. The way his eyes mesh with the Green Bay Packer helmet.
4. His size.
5. How hard he tries.
6. That he is a Super Bowl Champion
7. That he is a pro bowler.
8. That he loves Lambeau Field.
9. His hair.
10. That he is a Green Bay Packer