The world feels smaller and smaller. Case in point: A.J. Hawk of the Green Bay Packers married the cousin of Zachery Ty Bryan, aka BRAD from HOME IMPROVEMENT! If you're like me, you remember Brad being the oldest boy of Tim and Jill Taylor on the 90s sitcom. He was the one with the most sass and frequently picked on his younger brothers. Brad also experimented with his hair frequently. Is that where A.J. Hawk gets it, too?
Brad (left) and AJ
This got me thinking more about AJ Hawk and his Zachery Ty Bryan connections.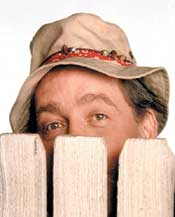 For example, who on the Green Bay Packers would be a good Wilson, peering over the fence from time to time?
Which Green Bay Packers player would make a decent Al?
The possibilities are endless with a Home Improvement-Lambeau Field connection. The Packers roster is full of characters who would fit these roles well, and of course AJ Hawk has to be the team's Brad equivalent. I mean, they're related. Sort of.